_________________________________________________________________________________________________
Love is in the air! And what's more romantic than a date in Paris? Take your soulmate to the best restaurant in the city, enjoy the beautiful view of the Eiffel tower and whisper lovely words while staring into each other's eyes.

Strive to be the most romantic lovers, thanks to the Valentine's French monitor! Whisper sweet words in French to your valentine by typing what's written on the screen. If you get at least X sentences right, your love will be enhanced and you'll be granted titles and items.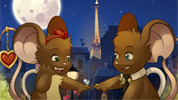 Take your date to another level. As Papaille and Elise did, ask your lover's hand in marriage and share your love with the entire community. Click on the "marriage" button (available in the friendlist) to marry your soulmate.
Your bethroded's name will be visible on your profile and a new icon will appear next to their name in-game. And that's not all! You will also play together in double shaman maps and fight maps.
Suit up! Put on your best clothes for your date. One brand-new fur and 2 new items are also available in the shop. These items will be available ONLY during the event.
L'amour est dans l'air ! Et quoi de plus romantique qu'un rendez-vous Ă  Paris ? Emmenez votre âme soeur dans le meilleur restaurant de la ville, profitez de la magnifique vue sur la tour Eiffel et sussurez-vous des mots doux tout en vous regardant dans les yeux.

Devenez le plus romantique des couples grâce au moniteur de phrases d'amour de la Saint Valentin. Chuchotez des mots d'amour Ă  votre valentin(e) en tapant ce qui est Ă©crit Ă  l'Ă©cran. Si vous Ă©crivez correctement X phrases, votre amour sera renforcĂ© et vous gagnerez des titres et des items.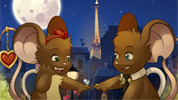 Passez aux choses sĂ©rieuses ! Tout comme Elise et Papaille, demandez la main de votre amoureux(se) et partagez votre amour avec toute la communautĂ©. Cliquez sur le bouton "mariage" (disponible dans la liste d'amis) afin d'Ă©pouser votre âme soeur.
Le nom de votre partenaire sera visible sur votre profil et une nouvelle icône apparaîtra à côté de son nom en jeu. Ce n'est pas tout ! Vous pourrez également jouer ensemble sur les cartes double chamane et les cartes "fight".
Mettez-vous sur votre 31 ! RevĂŞtez vos plus beaux atours pour votre rendez-vous. Une toute nouvelle fourrure ainsi que deux nouveaux items sont disponibles dans la boutique. Mais attention, ces items seront disponibles UNIQUEMENT pendant l'event.
O amor está no ar! E o que é mais romântico do que um encontro em Paris? Leve a sua alma gêmea para o melhor restaurante da cidade, apreciem a bela vista da torre Eiffel e sussurrem palavras de amor, olhando nos olhos um do outro.

Faça um esforcinho e seja o casal mais romântico, graças ao monitor francês do dias dos namorados! Sussurre palavras de carinho para seu namorado(a), digitando o que estiver escrito na tela. Se você acertar pelo menos X frases, suas juras de amor serão fortalecidas e você ganhará títulos e itens.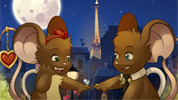 Marque um encontro no outro andar do mapa e faça como Papaille e Elise fizeram, peça a mĂŁo de seu amado(a) em casamento e compartilhe seu amor com toda a comunidade. Clique no botĂŁo "casamento" (disponĂ­vel na lista de amigos) para se casar com sua alma gĂŞmea.
O nome do seu companheiro(a) será visĂ­vel no seu perfil e um novo Ă­cone aparecerá ao lado do seu nick no jogo. E isso nĂŁo Ă© tudo, vocĂŞs tambĂ©m poderĂŁo jogar juntos em mapas duplo Shaman e mapas "fight".
Vamos lá, vista-se elegantemente nesta data tão especial! Uma pele nova e 2 novos itens também estarão disponíveis na loja. Porém atenção, estes itens ficarão disponíveis SOMENTE durante o evento.