_________________________________________________________________________________________________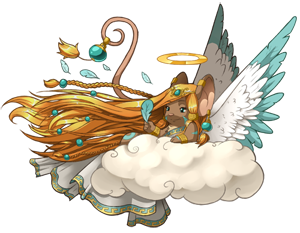 The almighty goddess shaman decided to grant shamans with more powers!
Many specialization opportunities will be soon presented to you! Our brand new experience system will enable you to evolve your shaman up to level 100! With each level you will gain a skill point. Use them wisely to improve your shaman!
Will you be oriented towards mouse helping, boosts or building? It will be up to you to decide when choosing where to invest your skill points!
La toute puissante d├ęesse chamane a d├ęcid├ę de donner aux chamanes plus de pouvoirs !
De nombreuses opportunit├ęs de sp├ęcialisations sÔÇÖoffriront bient├┤t ├á vous ! Notre tout nouveau syst├Ęme dÔÇÖexp├ęrience vous permettra de faire ├ęvoluer votre chamane jusquÔÇÖau niveau 100 ! A chaque niveau vous gagnerez un point de comp├ętence que vous pourrez utiliser pour am├ęliorer votre chamane !
Serez-vous une chamane pr├¬te ├á tout pour aider les souris ? Une chamane fan de construction ? Une chamane aimant particuli├Ęrement les boosts ? Ce sera ├á vous de le d├ęcider en investissant des points de comp├ętence o├╣ vous le souhaitez !
A toda poderosa deusa shaman decidiu dar mais poderes aos shamans!
In├║meras oportunidades de especializa├ž├Áes estar├úo em breve dispon├şveis para voc├¬. O nosso novo sistema de experi├¬ncia permitir├í que voc├¬ evolua teu shaman at├ę o n├şvel 100. Em cada n├şvel voc├¬ ganha um ponto de habilidade/compet├¬ncia, cujo qual voc├¬ poder├í usar para melhorar o teu shaman!
Voc├¬ est├í pronto para ajudar outros ratinhos? Voc├¬ ├ę um shaman f├ú de constru├ž├Áes? Ou ┬ámais um shaman apaixonado pelos boosts(comandos que d├úo for├ža/impulso aos ratos)? Cabe a voc├¬ decidir onde e como investir teus pontos!
Y├╝ce tanr─▒├ža ┼čaman, ┼čamanlara daha fazla g├╝├žler verilmesine karar verdi!
Yak─▒nda sizlere bir├žok uzmanl─▒k f─▒rsatlar─▒ sunulacak. Yeni geli┼čtirdi─čimiz deneyim sistemi ┼čamanlar─▒n 100 (level) seviyeye kadar ├ž─▒kmas─▒n─▒ sa─člayacak. Her seviye ile birlikte bir beceri puan─▒ kazanacaks─▒n─▒z. ┼×aman─▒n─▒z─▒ geli┼čtirmek i├žin bu puanlar─▒ ak─▒ll─▒ca kullan─▒n!
Farelere yard─▒m etmeye mi y├Âneleceksiniz, g├╝├žlendirmeye mi yoksa daha iyi in┼čalara m─▒? Yetenek puanlar─▒n─▒z─▒ kullan─▒rken bu tamamiyle size kalm─▒┼č bir se├ženek olacak!
¡La todopoderosa diosa chaman decidió darles más poderes a los chamanes!
¡Muy pronto se te ofrecerán varias especializaciones diferentes! ¡El nuevo sistema de experiencia permitirá la evolución de tu chaman hasta el nivel 100! ¡Cada nivel ganaras un punto de aptitud que podrás usar para mejorar tu chaman!
┬┐Ser├ís un cham├ín dedicado a salvar ratones? Un cham├ín fan├ítico de construcciones? Un cham├ín adicto a los boosts? ┬íEso lo elegir├ís usando tus puntos de aptitud como te d├ę la gana!
As always, you can share your opinion on the forums: HERE.