_________________________________________________________________________________________________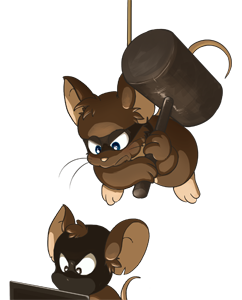 The spy network of Tigrounette is recruiting!
If you want to fight hackers and you speak either French or English, then you are at the right place! The anti-hack brigade seeks new members who can quickly find all new hacks and report them to us.
About the program: a brand-new secret sub-forum and privileged contact with the administration team for quick and regular patches of these hacks!
Still interested? Post a short paragraph and briefly explain why you want to help us!
Le r├ęseau dÔÇÖespionnage de Tigrounette recrute┬á!
Si toi aussi tu veux combattre la triche et si tu parles fran├žais ou anglais, alors tu es au bon endroit┬á! La brigade anti-hack cherche de nouveaux membres pouvant trouver rapidement les derniers clients de triche et nous les reporter.
Au programme, un sous-forum hyper secret et un contact privil├ęgi├ę avec les admins pour un patch rapide et r├ęgulier de ces clients┬á!
Int├ęress├ę┬á? Poste un petit paragraphe┬á├á la suite de ce message en expliquant rapidement pourquoi tu veux nous aider┬á!
A rede de espionagem do Tigrounette recruta !
Se voc├¬ tamb├ęm quer combater a fraude e se voc├¬ fala franc├¬s ou Ingl├¬s, voc├¬ est├í no lugar certo! A brigada anti-hack procura novos membros que possam encontrar rapidamente todos os novos clientes de fraude/hack e que possam nos reportar.
No programa, um sub-f├│rum secreto e um contato privilegiado com os admins para a corre├ž├úo r├ípida e regular destes clientes.
Interessados? Poste um pequeno parágrafo em resposta à esta mensagem;  explicando o porquê de você querer ajudar!
¡La red de espionaje de Tigrounette recluta!
Si t├║ tambi├ęn quieres combatir los tramposos y si hablas franc├ęs o ingl├ęs, entoncesest├ís en el lugar apropiado!
La brigada Anti-hack busca gente que pueda conseguir rápidamente los nuevos programas de hack (trampa) y reportárnoslos
Se trata de un sub foro h├şper secreto con un contacto privilegiado con los admins para parchear r├ípidamente y regularmente los hacks.
¿Te interesa? ¡Comenta con un pequeño párrafo explicando rápidamente porque quieres ayudarnos!
Tigrounette'nin casus ileti┼čim birimi yeni ├╝yeler ar─▒yor!
E─čer hilecilere kar┼č─▒ sava┼čmak istiyorsan─▒z ve ─░ngilizce ya da Frans─▒zca konu┼čuyorsan─▒z do─čru yerdesiniz demektir! Anti-hack ekibi, yeni ├ž─▒kar─▒lan hileleri h─▒zl─▒ bir ┼čekilde bulup bizlere raporlayabilecek yeni ├╝yeler ar─▒yor.
Program hakk─▒nda: yeni bir gizli alt forumuna eri┼čim hakk─▒ ve hileler i├žin h─▒zl─▒ ve s├╝rekli ├ž├Âz├╝m bulunabilmesi amac─▒yla adminlerle ayr─▒cal─▒kl─▒ bir ┼čekilde ileti┼čim kurabileceksiniz!
Hala ilginizi ├žekiyor mu? O zaman bu konuya k├╝├ž├╝k bir paragrafta k─▒saca bize neden yard─▒m etmek istedi─činizi a├ž─▒klay─▒n!
Dipnot: ─░ngilizce dereceniz herkesin anlayabilece─či ┼čekilde olmal─▒d─▒r, ├ževiri kullan─▒larak de─čil.