_________________________________________________________________________________________________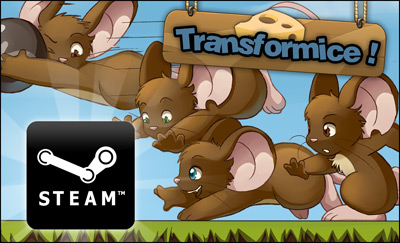 Hello mice!
Do you remember the good news we announced late 2014? It has been over four years since we launched Transformice, and now our game is finally going to be available on Steam! The critical date is quickly approaching, as the release is scheduled for January 30, 2015!
Listed in the ÔÇťFree-to-PlayÔÇŁ category, the game will remain free. However, we didn't forget to prepare multiple novelties for you. You will find new achievements, trading cards and other surprises that will be added to the list over time…
Don't forget to save the date in your calendar: if you connect on the game via Steam on the day of the release, you'll unlock an exclusive badge!

And to celebrate this event, we have created a wallpaper especially made for the steam release.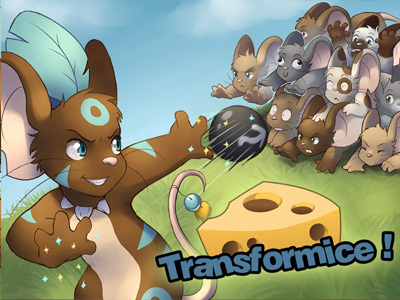 Click here in order to download it!
See you on the 30th of January!!!
Coucou les souris !
Vous vous souvenez de la bonne nouvelle que nous vous avions annonc├ęe, fin 2014 ? Apr├Ęs maintenant plus de quatre ann├ęes d'existence, Transformice va enfin ├¬tre disponible sur la plateforme Steam!
La date fatidique approche ├á grands pas puisque la sortie est pr├ęvue pour le 30 janvier 2015 !

R├ępertori├ę dans la cat├ęgorie Free-to-Play, le jeu restera gratuit. Pour autant, nous n'avons pas oubli├ę de vous pr├ęparer tout un tas de nouveaut├ęs. Au programme : des achievements in├ędits, des Trading Cards et d'autres surprises qui viendront s'ajouter ├á la liste au fil du temps…
Notez bien la date de lancement dans votre calendrier car ce jour-l├á, en se connectant via Steam, vous pourrez d├ębloquer un badge exclusif !

Et enfin, pour vous remercier de votre soutien, nous vous offrons un fond d'├ęcran r├ęalis├ę sp├ęcialement pour la sortie Steam !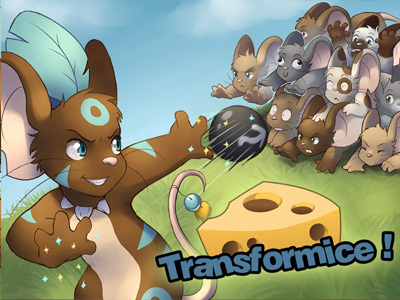 Cliquez ici pour choisir votre r├ęsolution !
Alors, rendez-vous le Vendredi 30 Janvier 2015 !!!
Oi ratinhos!
Voc├¬s se lembram da boa not├şcia que anunciamos ├á voc├¬s, no final de 2014? Depois de quatro anos de exist├¬ncia, Transformice estar├í finalmente dispon├şvel no Steam.
O grande dia vem se aproximando rapidamente, e o lan├žamento est├í agendado para o dia 30 janvier 2015 !
Transformice ficar├í listado na categoria "Free-to-Play", ou seja, na se├ž├úo "Gr├ítis para jogar", pois o jogo sempre ser├í gratuito. No entanto, n├úo esquecemos de preparar algumas novidades para voc├¬s: conquistas in├ęditas, "tradings cards" e outras surpresas que ser├úo adicionadas ├á lista ao longo do tempo …
Marque bem esta data de lan├žamento no calend├írio de voc├¬s. E n├úo se esque├žam, ├áqueles que se conectarem no jogo via Steam, desbloquear├úo uma medalha exclusiva!

E para agradecer o apoio que voc├¬s t├¬m nos dado, oferecemos um wallpaper feito especialmente para o lan├žamento no Steam!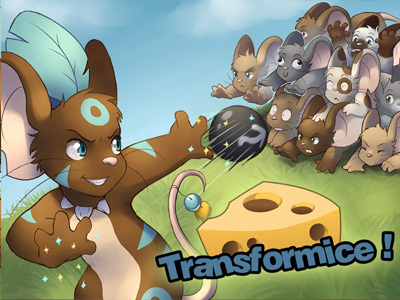 Clique aqui para escolher a resolu├ž├úo!
Nos encontramos Sexta-feira, 30 de janeiro de 2015 !!!
Merhaba fareler,
Y─▒l sonunda size vermi┼č oldu─čumuz g├╝zel haberi hat─▒rl─▒yor musunuz? Ba┼člang─▒c─▒m─▒zdan itibaren d├Ârt seneden fazla bir s├╝reden sonra, Transformice en sonunda Steam platformunda mevcut olacak! Sab─▒rs─▒zl─▒kla bekledi─čimiz tarih h─▒zl─▒ bir ┼čekilde yakla┼č─▒yor: 30 Ocak 2015 i├žin belirlendi!
ÔÇťFree-to-PlayÔÇŁ b├Âl├╝m├╝nde yer alan oyunumuz bedava kalacakt─▒r. Bunun yan─▒ s─▒ra, size yenilikler haz─▒rlamay─▒ unutmad─▒k. Programda: yeni ba┼čar─▒lar, takasl─▒k kartlar ve zaman i├žinde listeye eklenecek olan s├╝rprizler…
Bu tarihi ajandan─▒za not etmeyi unutmay─▒n, 30 Ocak'ta Steam arac─▒l─▒─č─▒yla oyuna ba─člananlar o g├╝ne ├Âzel bir rozet alabilecekler!

Ve bu ├Ânemli an─▒ kutlamak i├žin sizlerle Steam yay─▒mlamas─▒ i├žin ├Âzel olarak yapm─▒┼č oldu─čumuz masa├╝st├╝ resmini payla┼č─▒yoruz.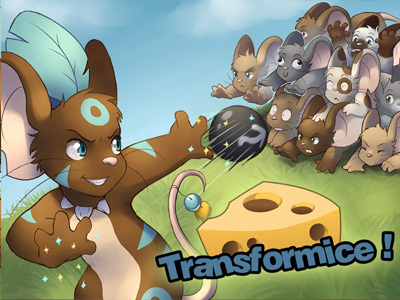 Onu indirmek i├žin buraya t─▒klay─▒n!
30 Ocak tarihinde g├Âr├╝┼čmek ├╝zere!!!