_________________________________________________________________________________________________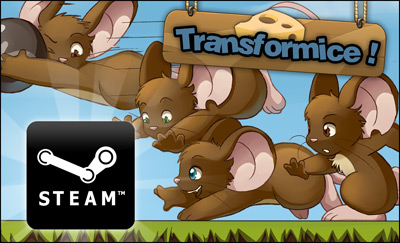 Hello dear fellow mice!
I have great news for you! After more than four years of existence, early next year, Transformice will finally be available on the Steam platform!
What is Steam ? It's a very popular digital distribution platform for games developed by Valve, with a great community, and it's a great chance to be listed among the games that are available there. Click here to see all the amazing games!
Transformice will be listed in the Free-to-Play section, as it will always remain free. We are preparing a few surprises for this launch, including a new standalone , but shhh! It's a secret!
We thank you all for your amazing support during those four years, this wouldn't have been possible without you <3 See you in 2015!!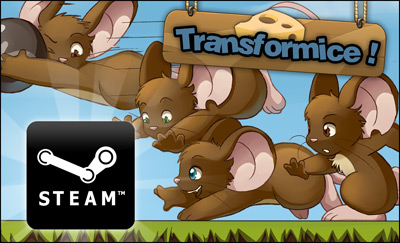 Bonjour ch├Ęres souris !
J'ai une tr├Ęs bonne nouvelle ├á vous annoncer ! Apr├Ęs maintenant plus de quatre ans d'existence, Transformice va enfin ├¬tre disponible sur la plateforme Steam d├ębut 2015 !
Qu'est-ce que Steam ? Il s'agit d'une plateforme tr├Ęs populaire de distribution num├ęrique de jeux d├ęvelopp├ęe par Valve, dot├ęe d'une grande communaut├ę. C'est une tr├Ęs belle opportunit├ę pour nous que d'├¬tre list├ęs parmi les jeux qui y sont distribu├ęs ! Cliquez-ici pour d├ęcouvrir tous les incroyables jeux !
Transformice sera r├ępertori├ę dans la section Free-to-Play puisqu'il restera toujours gratuit. Nous sommes en train de vous pr├ęparer quelques surprises pour ce lancement, y compris une nouvelle version standalone, mais chuut ! C'est un secret !
Nous vous remercions du fond du c┼ôur pour votre soutien extraordinaire au cours de ces quatre derni├Ęres ann├ęes, rien de tout cela n'aurait pas ├ęt├ę possible sans vous.┬á<3 Rendez-vous en 2015 !!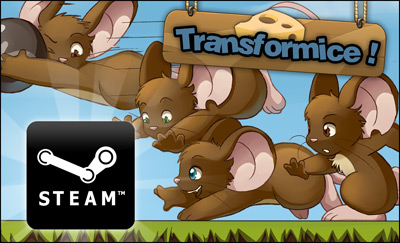 Olá queridos ratinhos!
Eu tenho uma ├│tima not├şcia para voc├¬s! Depois de mais de quatro anos de exist├¬ncia, Transformice estar├í finalmente dispon├şvel no Steam; a partir de 2015!
O que ├ę Steam? ├ë uma plataforma muito popular de distribui├ž├úo digital, para os jogos desenvolvidos pela Valve, com uma grande comunidade. ├ë uma bela oportunidade para n├│s poder fazer parte da lista dos jogos distribu├şdos por l├í. Para ver todos os jogos incr├şveis, clique aqui!
Transformice ficar├í na se├ž├úo "Free-to-Play", ou seja, na se├ž├úo "Gr├ítis para jogar", pois ele sempre ser├í gratuito. Estamos preparando algumas surpresas para este lan├žamento, incluindo um novo standalone, mas shhhhh! ├ë segredo!
Agradecemos ├á todos voc├¬s pelo incr├şvel apoio durante estes quatro anos! Sem voc├¬s, nada disto teria sido poss├şvel!
[spoiler show="T├╝rk├že"]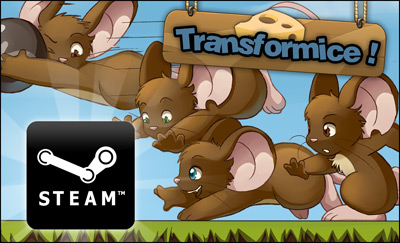 Sevgili fareler, merhaba!
Sizler i├žin ├žok g├╝zel haberlerimiz var! Kurulu┼čumuzdan d├Ârt y─▒l sonra, gelecek senenin ba┼č─▒nda Transformice, Steam platformunda yer alacakt─▒r!
Steam nedir? B├╝y├╝k bir toplulu─ča sahip olan, Valve'─▒n geli┼čtirmi┼č oldu─ču ├žok pop├╝ler bir dijital oyun da─č─▒t─▒m platformudur. Orada, mevcut oyunlar─▒n aras─▒nda yer almam─▒z bizim i├žin ger├žekten b├╝y├╝k bir ┼čans. Harika oyunlar─▒n t├╝m├╝n├╝ ke┼čfetmek i├žin buraya t─▒klay─▒n!
Transformice Free-to-Play b├Âl├╝m├╝nde yer alacakt─▒r, ├ž├╝nk├╝ daima bedava kalacakt─▒r. Bu yeni ba┼člang─▒├ž i├žin size birka├ž s├╝rpriz haz─▒rlamaktay─▒z, bunlar─▒n aras─▒nda,yeni bir Standalone versiyonu var ama, ┼č┼č┼čt! Bu bir s─▒r!
Ge├žen son d├Ârt sene boyunca, inan─▒lmaz deste─činiz i├žin hepinize ├žok i├žten te┼čekk├╝r ederiz, bunlar─▒n hi├žbiri siz olmadan m├╝mk├╝n olamazd─▒ <3 2015 y─▒l─▒nda g├Âr├╝┼čmek ├╝zere!!